DANK005 - ENiGMA Dubz - Badness (Remixes) [OUT NOW ON BEATPORT]
PLEASE BUY THIS RELEASE NOW!!!
http://www.beatport.com/release/badness-remixes/825440
http://www.junodownload.com/products/enigma-dubz-badness-remixes/1865995-02
http://itunes.apple.com/us/album/enigma-dubz-badness-remixes/id475541664
http://www.amazon.com/ENIGMA-Dubz-Badness-Remixes/dp/B0060GBXSG
http://www.audiojelly.com/releases/enigma-dubz-badness-remixes/213407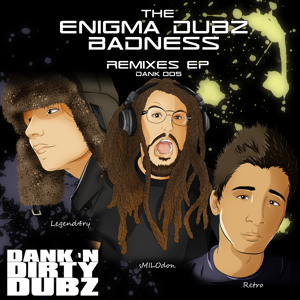 Just wanted to give you all a heads up that DANK005 is OUT NOW in all major online stores!!! Please support the artists by purchasing this release and, while you are at it, grab TWO FREE DOWNLOADS from the following soundcloud set :) BIG UP TO ALL THE SUPPORTERS!!!!
DANK005 - ENiGMA Dubz - Badness (Remixes) [OUT NOW ON BEATPORT]
Congratulations to
Retro
,
Legend4ry
, and
sMILOdon
, the winners of the '
ENiGMA Dubz
- Badness' Remix Competition! To honor these amazing producers,
Dank 'N' Dirty Dubz
will be releasing a Remixes EP. In addition to their remixes, this release will also contain an original track by each of the three artists!
The remixes of the top two runner ups,
Controlled Kaos
and
Crystal Catcha
, are now available for FREE DOWNLOAD as well, so be sure to grab your copy of these amazing remixes!
There were a total of 42 submissions for this competition and while there were some AMAZING remixes submitted, the competition was fierce and, in the end, only those with the highest overall scores remained. The judges,
ENiGMA Dubz
,
Sub Antix
, and
DJ Sashwat
spent hours rating their favorite remixes based on the quality, originality, and musicality of the tracks and, while their opinions differed greatly, they finally decided on a batch of quality remixes.
Big thanks to all the other producers who submitted remixes as well!
Audioscience, Bossman, Daisy Chain, David Perez, DJ E-Man, DJ Eternal, Drugganaut (Runner Up), eXploud, Fuctstep, Grave Robber (Runner Up), Grit Rider (Runner Up), GTEC, Hijinkx, Hysteria, Kotei, Laip, Latvian, Lowkap, Ming Da Mercilus, Mobes, Mr. Levi (Runner Up), MstrBstrd, Mystic, Native, Pandalogik (Runner Up), Pillijah, Ranger, Rich.E.Switch, Sandy Power, ScozY, Seny (Runner Up), Skorzen, Slaine, Sniq, The Kid Vicious, Vodex (Runner Up).
www.dubthugz.com
http://www.facebook.com/AshleighsAbstractions